Jun 13, 2011 by Marla Cornelius in Recession & Sustainability
These are the key findings from Daring to Lead 2011 related to the impact of the recession and organizational financial sustainability. For more information, download the full report in PDF and Leading Through a Recession: Daring to Lead Brief 1.
Recession Impact on Succession—One in six executives surveyed is 60 years or older, and of this group, 22% reported that a loss in their retirement savings contributed to a transition delay. Across all age groups, 12% reported that a shrinking job market contributed to delay. And, 9% report that reduced funding and the resulting instability of their organizations contributed to delay.
Recession Impact on Organizations—The majority of organizations were negatively impacted by the recession. Eighty-four (84%) of leaders reported negative organizational impact, though its intensity varied widely, with one in five executives describing the negative impact as significant. In the fourth quarter of 2010 when these data were collected, 26% of organizations had downsized; that is, were operating with a budget smaller than the previous year's. More than one third of nonprofits (34%) were operating with a budget larger than the previous year's.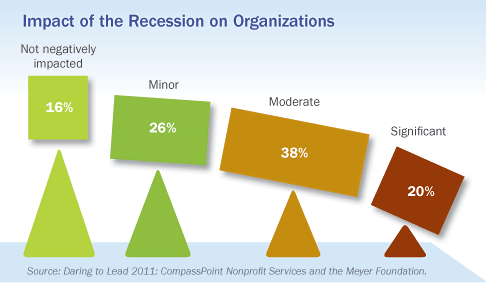 Recession Impact on Executives—Sixty-five percent (65%) of executives reported significant levels of recession-related anxiety. Thirty-three percent (33%) of executives with less than one month of reserves reported high recession-related anxiety, compared with 15% among executives with six months or more. Recession anxiety was strongly associated with executive burnout. Overall, 9% of executives described themselves as very burned out, compared to 19% of leaders with high levels of recession anxiety.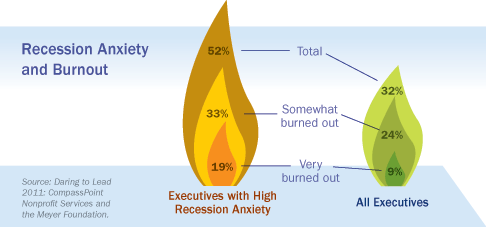 Operating Budget Size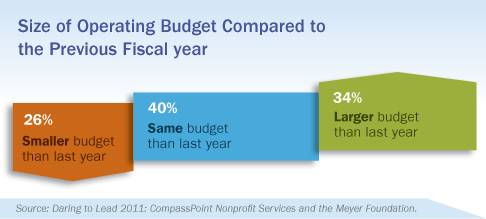 Operating Reserves—Almost half of executives (46%) reported cash reserves of fewer than three months (the prevailing wisdom is that organizations should maintain reserves of at least three to six months).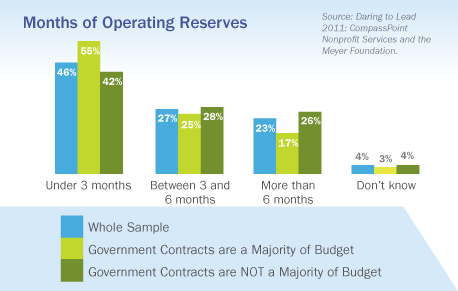 Government Funding Compared to Other Sources—Nonprofits that rely on government contracts for more than 50% of their operating budget—typically those providing direct human services—are even more vulnerable, with 55% operating with less than three months reserves compared with 42% among those with different funding models.
Among three income sources—individual donations, foundation grants, and government contracts—government contracts were most likely to comprise 50% or more of an organization's budget. More than one in four organizations (28%) was majority government funded, and these groups tended to have smaller cash reserves. Fifty-six percent (56%) of nonprofits that are majority government funded—typically those providing direct human services—reported an operating reserve of less than three months, compared with 42% across all organizations.
New Leaders and Leaders of Color — The recession and business model challenges are disproportionately affecting new leaders and leaders of color. Thirty-two percent (32%) of executives in their first year on the job have less than one month of operating reserves. Twenty-eight percent (28%) of people of color-led organizations were severely impacted by the recession compared with 18% of white-led nonprofits. This is in part because people of color are more likely to run heavily government-funded organizations; 34% of leaders of color run nonprofits whose budgets are comprised of 50% or more government contracts compared with 27% of white executives.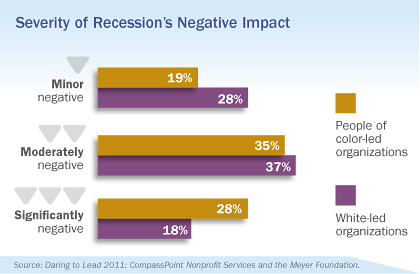 Executive Financial Analysis Skills—A significant minority of executives are not deeply financially literate. When asked how comfortable they are with financial analysis, 40% assessed themselves as having only moderate literacy. Similarly, when asked whether their role in finance energizes or depletes them, a significant minority described their role in finance as depleting (7%) or somewhat depleting (32%).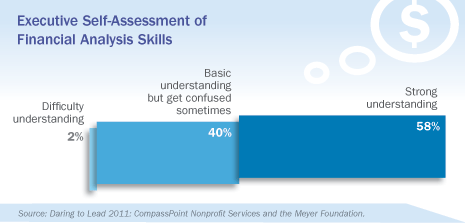 Board Engagement in Sustainability —Executives reported relatively high levels of financial oversight compared with other potential aspects of board engagement such as fundraising or public policy; 73% of executives said they had someone on the board providing significant effort to support the organization in financial oversight compared with 47% in fundraising and 32% in public policy. Thirty-nine (39%) of leaders reported that they do not have board engagement in strategic decision-making.