Jun 13, 2011 by Marla Cornelius in Professional Development
These are the key findings from Daring to Lead 2011 related to professional development. For more information, download Inside the Executive Director Job: Daring to Lead Brief 2.
Effectiveness of Strategies Used—Of all professional development strategies utilized, executives were most likely to rate executive coaching, peer networks, and leadership programs as very effective.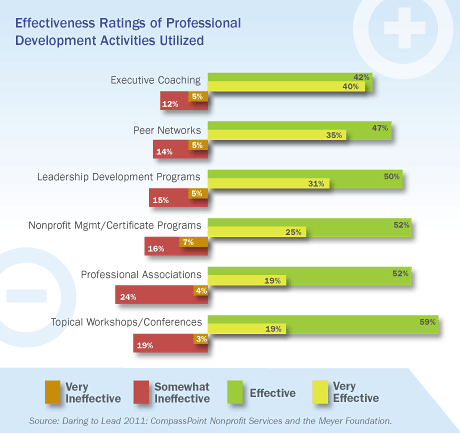 Mentorship—Thirteen percent (13%) of executives reported that they are in an explicit mentoring relationship (as the mentor) with another executive director.
Coaching—Ten percent (10%) of leaders were currently working with an executive coach.
Funding—Eighteen percent (18%) of executives reported receiving philanthropic support for their personal development within the past three years.