Aug 05, 2011 by Marla Cornelius in Boards, Reports & Briefs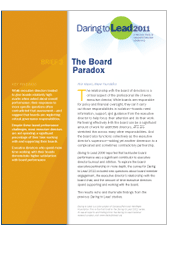 This third Daring to Lead brief examines the paradoxical nature of board and executive director relationships. Key findings include:
While executive directors tended to give boards relatively high marks when asked about overall performance, their responses to more speci­fic questions often contradicted that assessment—and suggest that boards are neglecting critical governance responsibilities.
Despite these board performance challenges, most executive directors are not spending a signi­ficant percentage of their time working with and supporting their boards.
Executive directors who spend more time working with their boards demonstrate higher satisfaction with board performance.
Read more and download a PDF of Brief 3 either by clicking the button below or using the free alternate download via MediaFire.com.
Download the Brief 3 PDF >