Jun 13, 2011 by Marla Cornelius in Boards
These are the key findings from Daring to Lead 2011 related to boards of directors. For more information, download The Board Paradox: Daring to Lead Brief 3.
Board Performance—More than two-thirds (68%) of executives were somewhat satisfied with their boards' performance, and of those nearly 20% were very satisfied.  The remaining respondents–nearly a third–were either very unsatisfied or only a little satisfied. Among all respondents, the largest number (48%) were only somewhat satisfied with board performance.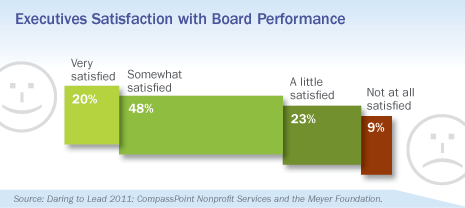 Thirty-eight percent (38%) of executives were very confident that their own efforts could influence their boards' performance.  Just 6% reported that they had no confidence in their ability to do so.
Board Chair Relationship—Most respondents felt positive about their partnership with their board chair. A majority (52%) described the relationship as functional, and a large number (38%) described the relationship as exceptional. Only a small minority (9%) reported a dysfunctional relationship.
Performance Evaluation—Forty-five percent (45%) of executives did not have a performance evaluation last year.  Among the majority of executives who did have a review within the past year, just a third (32%) said it was either somewhat useful or very useful, with the remaining two thirds reporting that it was only a little useful (53%) or not useful at all (15%).
Board Support—Nearly three-quarters (73%) of executives reported strong support from board members in the area of financial oversight. However, nearly half (44%) have not achieved 100% giving.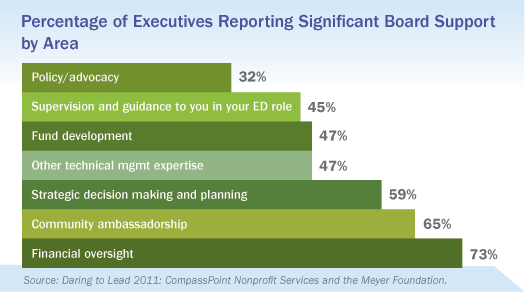 Executives reported lower participation rates than in other areas of board responsibility, with the exception of board members making a personal contribution (71%).  Fewer than half of respondents reported strong board member participation in donor identification and prospecting (48%), asking for gifts (42%), and donor cultivation (41%).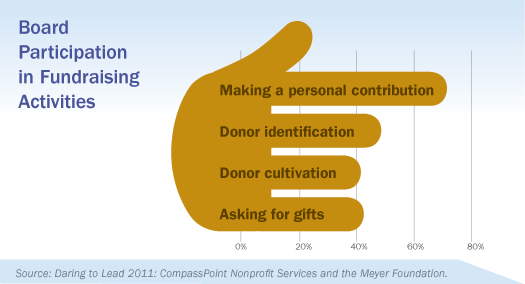 Time Spent on Board Work— The majority of respondents (56%) reported spending ten hours or less per month on board-related activities which translates to just six percent of a full-time executive director's time. Only about 17% of respondents reported spending 20% or more of their time on the board.
Among executive directors who spend ten hours or less per month on board-related matters, only 17% said they were very satisfied with the board's performance.  Of those who spent more than ten hours per month working with the board, 23%—nearly a quarter—were very satisfied with board performance.  More than a third of respondents (36%) said they needed to spend more time on the board.
Executives who spend more than 10 hours per month working with the board were more likely to have had a performance evaluation within the past 12 months, and were much more likely to report that the evaluation was very useful.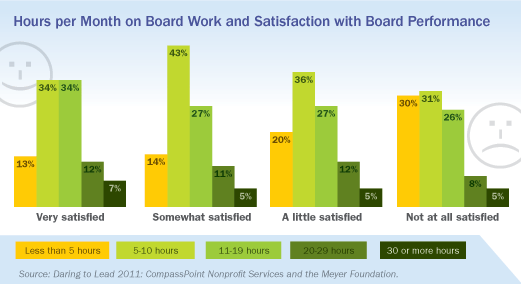 Policy & Advocacy — Eighty-five (85%) of executives spend some time on policy and advocacy related activities.  Of those, 47% believe they do not spend enough time in this area. Regardless of the mission type of an organization, if it receives a majority of its revenue from government contracts, the executive was significantly more likely to be engaged in policy activities. Four percent (4%) of executives leading majority government funded organizations said they did not need to spend time on policy and advocacy, compared with 18% leading non-majority government funded organizations.
Executives' on Boards—Forty-nine percent (49%) of executives were currently serving on a board of directors for an organization other than their own.
Note: Other studies have found that executives who spend 20% of their time on board-related activity have high rates of satisfaction with board performance.