Articles related to 'Uncategorized'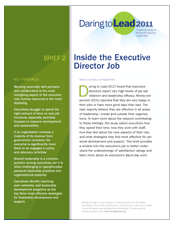 Jul 27, 2011 by Marla Cornelius
This second Daring to Lead brief provides a window into the executive role to better understand the underpinnings of job satisfaction and learn more about a leader's day-to-day work. Get a downloadable PDF of Brief 2 either by clicking the button below or using the free alternate download via MediaFire.com.
Jun 28, 2011 by Patrick Santana
Please feel free to share your thoughts on any of the findings or data presented here on Daring to Lead. We welcome your input.